CAPTAIN RICHIE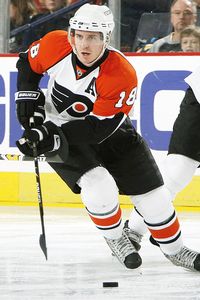 As expected, Mike Richards was named captain of the Flyers Wednesday.
There was a time, not too long ago, that I didn't think he was ready. Nor did he. But, I am now a believer.
I talked to Mike for a bit last week, and there was something different about him - in a good way.
There was a subtle maturity that had sprung forth. A more introspective and intellectual conversation was had than ever before.
Sure he's still young, sure he still has a way to go to grow into the new responsibility, but he is in fact ready.
And he is the epitome of what this new version of the Flyers is all about - young, brash, talented and gutsy. Of course, it helps that those characteristics are what FLyers fans fall in love with and that Richards is signed here for another 11 seasons.
Good move by the Flyers. It didn't seem that way in May, but it sure does in September.
His alternate captains will be Kimmo Timonen and Simon Gagne, also a deserving pair.