Flyers have lost their fight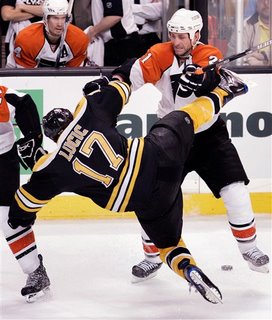 The No. 1 question I get asked all the time is, what the heck is wrong with the Flyers?
The answer, in my mind is quite simple - they've lost their grit.
Sure, it reappears every once in a while, but it doesn't stay for long. It's like a short visit to the boys, see how they're doing and moving on their way.
The Flyers were successful the first half of the season because they made teams fear them a bit. Not that there was a team out there literally shaking in their skates about facing the Flyers, but the fact the Flyers were willing to take a suspension or five and were hitting the daylights out of ya each game, put the thought in teams' heads that hey, this is going to be a painful game.
Not anymore.
Nope. Anyone watching any of the NCAA tournament? You see that Gatorade commercial that is running every 30 seconds with the clock striking 12? Notice they don't show the Flyers in there.
That's because when the clock struck 12 for this team, they did turn into a pumpkin.
I can't explain why really. Early this season they were fun, exuberant, nasty - everything the Flyers were known to be over the years - and it was great hockey.
But now, they're a shell. A couple of guys still ramp up the physical play, but for the most part, the Flyers are too worried about making mistakes to concentrate on punishing opponents.
With their season on the line and eight division games remaining, the Flyers should stop looking for solutions to their game play to try and salvage the season, and in turn go out there and hit and hit some more.
THey might be surprised how that will help them execute the game plan the way coach John Stevens wants it.