OPENING NIGHT IMPRESSIONS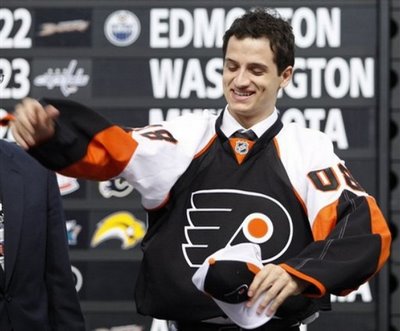 There are few things that are more mind-numbing in this world than preseason sports.
On the painful scale, exhibition hockey is akin to plucking your eyebrows out of your head with a pair of pliers.
Of course, preseason basketball is like yanking teeth with a piece of yarn tied around a doorknob and preseason football is like amputating an appendage with a rusty hacksaw, but that's another discussion for another day.
Back to the hockey....
As boring as these games tend to be, the coaches and general managers of the participating clubs are looking for positives and negatives as they prepare to make the final adjustments on their roster before the season begins.
With a lineup of mostly young players looking to make impressions, there were some that left an indelible mark and others who were barely noticed.
1. Luca Sbisa - The 2008 first round pick was solid in his pro debut. Paired mostly with Ossi Vaananen, Sbisa took 22 shifts, playing 16:21. He was a plus-1 and looked very composed.
"I was more nervous in the afternoon and in the morning than I was in the dressing room," said Sbisa. "As soon as I stepped out on the ice I lost the nerves. It's a little bit different than juniors, but it was just a great experience."
Stevens had nice things to say about Sbisa as well:
"He's been impressive through training camp," said Stevens. "The thing that's impresed me most is where he's at physically at this stage of his life. His MVO2 numbers (maximum oxygen intake) are excellent, his strength numbers are excellent and he has composure and a casualness to his game in a good way. He doesn't panic with the puck and he's willing to make plays. It's incredible we have this many young players with such a defensive awareness this early in their careers."
2. Andreas Nodl - The 2006 second round forward played mostly with the top line and finished as a plus-2 with an assist in 16:18 of playing time. Nodl took three shots on goal and set up Mike Richards for the first goal of the game.
3. Jon Kalinski - The 2007 sixth round pick was buzzing on the ice all night. He was also a plus-2 and picked up an assist on the first Steve Downie goal.
"They are two guys I didn't know a whole lot about and I got an opportunity to see them in rookie camp and a couple of days in our camp and that is the best I've seen them play," said Stevens. "It is impressive to see young guys come in that situation and play with composure and confidence and have such defensive awareness. I am really impressed with both of them and I felt very comfortable putting them out there in all situations.
4. Claude Giroux - The much ballyhooed rookie was nearly invisible on the ice, and Stevens noticed him being frequently out of position and behind the play.
"He never seemed to get going. We moved him around a little bit, but I've seen him play better than he did tonight. When you are a young player you can't try and hit the home run too much. He has to just play the game and do the little things well and it will come. He can play better and he'll have plenty of opportunities to do that."