ALBERTS SHOWCASE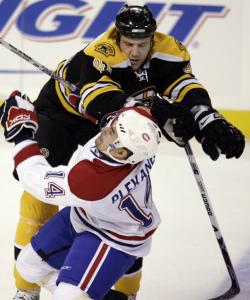 In desperate need of some size on the blue line, the Flyers traded for 6-5, 220-pound bruiser Andrew Alberts from Boston. In exchange, the Flyers sent the Bruins minor league forward Ned Lukacevic and a conditional 2009 draft pick. If Alberts re-signs with the Flyers at the end of the season, the Flyers owe Boston a third round pick, if not, they owe Boston a fourth round pick. Alberts, 27, is in the final year of a two-year $2.5 million contract. $1.25 million will count against the Flyers salary cap. From the press release:
Alberts appeared in 35 regular season games for the Bruins last season, recording two assists and 39 penalty minutes. He was also scoreless in two playoff games for Boston. He missed 47 games due to injury with post-concussion symptoms following a hit in the game at Philadelphia on November 26.
The hit was the cheap shot Scott Hartnell planted on him in a game in Philadelphia last November. Hartnell was suspended two games for the hit. Now the two are teammates. That oughta be fun.
Here's a link to the video:
Over parts of three NHL seasons (2005-06 through 2007-08), Alberts has registered one goal and 18 assists for 19 points and 231 penalty minutes in 184 regular season games. He led the Bruins in penalty minutes during the 2006-07 season with 124.
A native of Minneapolis, Minnesota, Alberts played four seasons (2001-02 through 2004-05) for the Boston College Eagles of the Hockey East Conference, recording 16 goals and 50 assists for 66 points and 243 penalty minutes in 149 games. He was named to NCAA East First All-American Team twice (2003-04 and 2004-05), the Hockey East First All-Conference Team following the 2004-05 season and shared Hockey East's Best Defensive Defenseman Award for the 2003-04 season.
He was originally drafted by Boston in the sixth round (179th overall) of the 2001 NHL Entry Draft.
Alberts won't play tonight against Montreal, but he will be in the building.