A look at the 4-3 shootout win against New York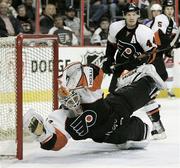 Here's the breakdown:
With the win the Flyers (37-28-10) have 84 points and have leap-frogged Boston (83 points) for 7th place in the Eastern Conference.
However, Boston still has a game in hand.
Up to the minute, here's the breakdown of positions 5-thru-12 in the East.
Pos. Team GP W L OT PTS
5. Ottawa 74 41 26 7 89
6. NY Rangers 75 39 26 10 88
7. FLYERS 75 37 28 10 84
8. Boston 74 37 28 9 83
9. Washington 76 37 31 8 82
10. Buffalo 75 35 29 11 81
11. Florida 75 35 31 9 79
12. Toronto 75 34 31 10 78
Remaining schedules: (Home games in CAPS)
Ottawa (8 games): TORONTO, at Montreal, at Buffalo, BUFFALO, at Boston, MONTREAL, at Toronto, BOSTON
NY Rangers (7 games): FLYERS, NEW JERSEY, at Pittsburgh, PITTSBURGH, at N.Y. Islanders, N.Y. ISLANDERS, at New Jersey
FLYERS (7 games): N.Y. ISLANDERS, at N.Y. Rangers, at New Jersey, at N.Y. Islanders, at Pittsburgh, NEW JERSEY, PITTSBURGH
Boston (8 games): at Montreal, at Toronto, TORONTO, OTTAWA, at Buffalo, at New Jersey, at Ottawa, BUFFALO
Washington (6 games): at Carolina, at Tampa Bay, at Florida, CAROLINA, TAMPA BAY, FLORIDA
Buffalo (7 games): OTTAWA, at Ottawa, MONTREAL, BOSTON, at Toronto, at Montreal, at Boston
Florida: (7 games): TAMPA BAY, at Tampa Bay, ATLANTA, WASHINGTON, at Atlanta, at Carolina, at Washington
Toronto: (7 games): at Ottawa, BOSTON, at Boston, MONTREAL, BUFFALO, OTTAWA, at Montreal
The way I see it:
The Flyers need eight more points. Beat the Isles twice, and win two of the remaining five games against the Rangers, Pens and Devils, and they're in. The funny thing is, they don't need to deny any of their opponents points the rest of the way. The teams the Flyers are battling for the playoffs are all outside the division. That's what's going to probably make it easier for them to sneak in. I'm still not completely confident in them, but they'll probably make it.
Boston is toast. Their remaining schedule is brutal compared to Washington and Florida. The final playoff team will come from the Southeast, and it will most likely come down to the last game of the season in Washington when the Caps host the Panthers.
If I had to make a prediction right now, I'd guess the playoffs will look like this:
1. NJ vs. 8. WAS
2. MTL vs. 7. PHI
3. CAR vs. 6. NYR
4. PIT vs. 5. OTT
The Flyers played great against the Rangers for 50 minutes Friday before completely losing their defensive focus.
John Stevens said the Marek Malik goal was through a screen, which is why Marty Biron missed it. I say hogwash. He should of had it. It's goals like that that kill momentum for the Flyers, and Marty has been prone too them all too frequently.
The third Rangers goal is a total breakdown by everyone. No one, and I mean no one played the puck. The Rangers danced through the zone with it for what seemed like eons. Somebody has to go get the puck and not stand around in a square and hope the goalie makes the save - BECAUSE WE KNOW HE'S NOT GOING TO!!!!
Stars of the Game:
1. Danny Briere - The mighty mite has been awesome lately. He's been even or a plus in eight of his last 11 games, and he's scoring like a fiend too. Plus, he's playing through a shoulder injury. A lot of people wanted to write him off this season, that would have been a mistake.
2. Mike Richards - He played like a captain this time. He took the bull by the horns and ran with it. He scored the opening goal and set the tone early. You can tell the difference between the Flyers with and without Richards.
3. Jaroslav Modry - Yeah, he was minus-1, and now is minus-16 in 12 games with the Flyers, but he was really good at controlling the zone during the first two periods. He deflected a lot of passes, had a few blocks, and really frustrated the Rangers. More efforts like this will be needed from him.