BORN LEADER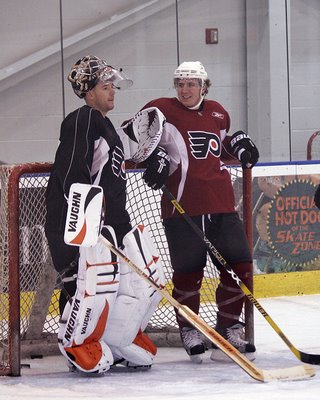 Some observations from the Flyers' frustrating 3-2 loss to Pittsburgh Tuesday:
1. Mike Richards is not a happy captain - nor should he be. Tired of the team being satisfied with a solid effort but coming up short, Richards challenged his team to find a way to win by saying no matter how well the team plays, good teams find ways to get victories.
The silent, unspoken part of that comment is inconsistent teams find ways to lose, and right now, the Flyers are wildly inconsistent.
Richards has a certain moxie about him already that usually develops over time in the best leaders. He has what Keith Primeau had. He has what Dave Poulin had. Most importantly, he has what Bobby Clarke had.
He holds his teammates accountable for their own performances and actions. There will not be a 10-game losing streak this season like there was last season.
2. Antero Niittymaki should start Thursday in Denver against the Avalanche. He has outplayed Marty Biron to start the season and deserves another shot. That doesn't mean I think Niittymaki should supplant Biron as the starter. It just means that he's playing well and deserves another start. Biron can get back in there Saturday in San Jose.
3. Evgeni Malkin gets away with murder. He can do whatever he wants on the ice. Really. In the third period, Malkin broke his stick on a shot from the point during a power play. He had to play defense without it and as Mike Richards came down the wing, Malkin clawed Richards' face with his glove and didn't let go. No penalty was called, but Richards has a heck of a scratch on his cheek as evidence.
4. Riley Cote and Eric Godard treated us all to a classic fight that went on for more than a minute. Each side landed a few big punches. It was scored a draw by the fight experts in the press box. Without gooning it up, more of these kinds of tussles are needed in the NHL.
5. Luca Sbisa is fearless. It appears his favorite thing to do is to lead a rush up ice, dump the puck into the zone, and then chase it himself, usually crunching an opponent's defenseman against the boards - or knocking himself silly - or both. Gotta love this kid.
6. Danny Briere took the game off. Mike Knuble's ice time was limited a bit after he was replaced on the power play by Sbisa. Steve Downie was rooted to the bench, playing just a couple of minutes. Something's not right here. For a kid who is suppossed to be a versatile prospect, he sure seems like someone John Stevens doesn't want on the ice all that often.
Talk to you from Denver.