FOOT FAULT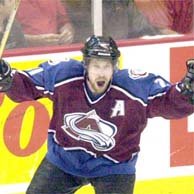 You know, it was fun to see the Philadelphia 76ers last longer in the playoffs than Allen Iverson, albeit for only two games.
In hockey, there isn't the same feeling about Peter Forsberg from a Philadelphian's perspective, but I have to admit, there is a little bit of Schadenfreude taking place in that regard.
See, Forsberg could have come to Philadelphia. No, check that, should have come to Philadelphia.
But, when his decision was made to return to the NHL for a playoff run, he abandoned the idea of coming back to the Flyers after he watched them wallowing in a 10-game losing streak in February.
Instead he chose to make the last great playoff run with his other former team - the Colorado Avalanche.
How'd that turn out?
The Avs were unceremoniously dumped out of the playoffs by the Detroit Red Wings yesterday, losing 8-2 in Game 4 and getting swept away.
Meanwhile, the Flyers are one win away from the conference finals.
Hey, no one said Forsberg was perfect.
There is this though, and this isn't a laughing matter:
Forsberg, 34, said after the game 4 loss that an MRI on Wednesday revealed tears in both groins.
He missed the final two games of the playoffs for Colorado, and had his season, and maybe his career, end in a fashion he always despised - losing and hurt.
He ended up playing 16 games, including seven in the playoffs, after rejoining the Avs at the trade deadline with the understanding he'd play when his chronically bad ankle allowed.
Forsberg said retirement may finally be beckoning.
"Just too many injuries," Forsberg said. "If it doesn't get solved, that would be it, but we'll see what happens."
He was a great player. One of the best all-time. So if it is over for Foppa, it will be sad day for the NHL.
But, it's a shame he didn't try and make that last shot at glory with a team that has more talent and a better shot of getting there.