SCOTTIE UPSHALL ALL IN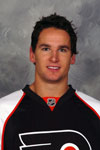 I have a special treat for the readers of my blog on the Delaware County Daily Times Web site.
Each week (usually on Saturdays, but not until after the Phillies win the World Series) I will have a special guest blogger from the Flyers past, present or future.
The unique thing about these blogs will be that they have very little to nothing to do with hockey.
Instead, it will offer an opportunity for you the fan and reader to get to know these people on a different level other than hockey.
For our test run, Scottie Upshall was kind enough to be the guinea pig. He will give you all a detailed description of his entry into this past summer's World Poker Tour Main Event at the Borgata Poker Open in Atlantic City.
Take it away Scottie.
Thanks Anthony.
Hello Flyers' fans. What's happening? I just wanted to take this opportunity to share a little bit with you about my experience playing in a major poker tournament this past summer.
The idea came up and was brought to my attention about a week prior to the tournament. It was a Sunday Morning and the tournament started at 11 a.m. I left my house about 9 a.m. I brought a pair of jeans and a couple t-shirts with me thinking if I'm here for more than a couple hours I might need a change of clothes. I also brought a toothbrush – in case I needed to stay overnight. I really wasn't expecting much knowing I was going in to play against professionals and all that. I play cards and poker is something I always love to do, I just didn't realistically put myself in that situation.
I went there and it was run so well. The Borgata looked after my entry fee ($10,000) and told me if I made any money, I didn't have to cash it out and that I could give it directly to charity. They thought it was a good opportunity for them to publicize that a Philadelphia Flyer was there playing.
I played against (2006 World Series of Poker winner) Jamie Gold. I sat at a table with him on Day 2 for about 10 hours. I played against Nam Lee, who from what I've been told from all the writers in the poker business is one of the top three tournament poker players in the world. I also played with Joseph Sebok, but there were professionals all over the poker room. Everyone you sat down and played with if you asked if they had any hobbies it was always poker, poker, poker, online poker, poker and more poker. They live and breathe cards and calculating different hands.
Not me. I look at my hole cards and say "all right, these are either good or bad." I play what I got dealt. Come time that I have to make moves whether I was pushing or bluffing or had a strong hand that's it. I don't think about all that other stuff.
The tournament went really well. I played some good cards and got to play against some great players both days I was there. The whole event and the whole experience was pretty cool.
The top 54 players cashed and I went out 52nd. Above my buy in I made an additional $5,000. Therefore I was able to donate $15,000 to both charities I am affiliated with – the Flyers' Wives Fight For Lives as well as the Kids Forever foundation that I do back home (in Fort McMurray, Alberta – a charitable organization I helped create along with Chris Phillips of the Ottawa Senators that is dedicated to providing financial help to local families whose children have been diagnosed with unfortunate illness).
I went out with a hand of Queen-10 suited. I was sitting next to the dealer (button) so I was in great position. One of the blinds limped in. I hit a 10 on the flop and I raised half my chip stack. The other player put me all-in. He had Ace-King. He hit a King on fourth street and I was demolished after that.
I have been playing poker for about five years now - ever since I turned pro in hockey. Poker is a good game to kill time and more or less have guys mingling and have some bragging rights. We keep track here, with some rankings and stuff throughout the year. The games get pretty good. There's really not a lot of money involved, it's more about getting the guys together on road trips and killing time on the plane. It's fun.
The best poker player last season was Scott Hartnell. During the season I was ahead slightly and he fell just short of me, but during the playoffs he had a couple of big trips and I had a steady decline, so he finished one and I finished two. After us, Kimmo Timonen is a solid player. (Former Flyer) Jimmy Dowd can fire the cards around a little bit and Joffrey Lupul has a lot of potential, he just hasn't brought out his "A" game yet.
That's it for me. Thanks for taking the time to read my blog and I'll see you on the ice.
Scottie