DRINKING THE ORANGE KOOL-AID
og entry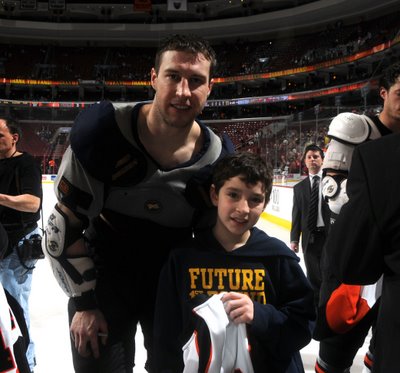 Admit it, you never thought the Flyers would make it to the Eastern Conference Finals.
I didn't. Never. Not at any point in the season. Even when they were closing in on Ottawa for the No. 1 seed in the East in early February.
I especially didn't think they'd still be playing hockey on Mother's Day after losing 10-in-a-row.
Then, in mid-March, after blowing a game in Boston, losing Derian Hatcher to a fractured tibia, and being run out of the igloo by the Penguins, I wrote story... make that a eulogy... for their impending funeral.
Now, I'm on board. I'm a believer. I don't doubt this team any longer. I don't care if it's Sid the Kid and the Penguins in the Conference Finals, there's nothing that makes me feel this team isn't something special.
Climb on board. Join me. Honk if you think the Flyers can reach the Finals. It's time to enjoy the ride folks, because it was supposed to be over by now. and yet somebody forgot to put on the breaks.
..........................................................................................................................................................................
In another development, I talked to my oldest son, Anthony Jr. tonight after the game. I never heard him so excited. It reminded me of when I was his age, or close to it. The Flyers were going to the Finals against Edmonton and lost in seven. I hung on every faceoff like it was the most important moment in the history of time.
He was the same way.
His favorite player is R.J. Umberger. This is a relatively new favorite player for him. It has nothing to do with the fact that he had eight goals in five games against the Habs.
No, Anthony got a pair of last minute tickets to fan appreciation night back in February. It was a last minute birthday present. Completely at random, 25 tickets were drawn to receive the Flyers jerseys off their backs immediately following the game.
Out of 20,000 people in attendance, Anthony Jr. was chosen as one of the 25.
The jersey he got? Umberger of course.
And now, with Umberger having a playoff series for the ages, he's in his glory.
So, after the game, when he called me, he asked when he's getting his picture on my blog.
I thought this would be the most appropriate time - especially with Umberger being the MVP of the Conference semis.
So here's the picture at the top of this blog entry - Anthony Jr. and R.J.- I hope you're happy son.